Are you thinking of caravanning near Gold Coast of Australia? If you are, you certainly aren't alone. Thousands of people every year – from young families on their first caravan adventure to seasoned 'Grey Nomads' – appreciate that the Gold Coast on Queensland's southern coastline, has more than enough to satisfy everyone's adventurous spirit.
Whether you dream of going 'off track' into the hinterland areas to re-connect with the natural environment, or plan on treating the kids to the famous theme parks – your caravan adventure on the Gold Coast of Australia will tick all the boxes.
So let's take a sneak preview of just a few of the Gold Coast's wonderful attractions.
Caravan Gold Coast Hinterland
The Gold Coast hinterland is famous for some of the most picturesque landscapes on the entire eastern seaboard of Australia. Here are some of the highlights …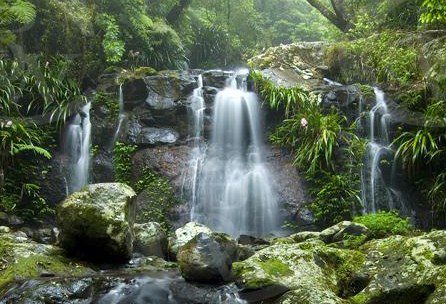 Theme Parks
Of course, no caravan adventure on the Gold Coast would be complete without visiting at least one of the theme parks to be found in the area. Sea World, Wet 'n Wild Water World, Movie World, Dreamworld, White Water World, Adrenalin Park, Tree Top Challenge, Putt Putt Golf, Infinity Attraction, Slingshot Gold Coast, Dracula's Haunted House …. The list goes on. And …. Surfers Paradise, world famous beaches such as Kirra, Snapper Rocks, Coolangatta, Currumbin Wildlife Sanctuary, Sky Point Climb, Jupiter's Casino, a variety of boat tours.
The Gold Coast truly is a mecca for both man-made and natural attractions that will give anyone on a caravan adventure on the Gold Coast of Australia more choice of activities than most other areas you may visit. Of course one of the drawbacks of having so many possible attractions spread over so wide an area is deciding on where to stay.
This is where ByronCampers can help. Why stay in any one place? Why not hire one of our Avan aliners, Jayco expandas campers, or Customline Camper Trailers and stay wherever you wish? ByronCampers can supply everything you need for your caravan adventure on the Gold Coast of Australia. Whether you want a van for a few days, a few weeks or even a few months, we have a range of vans to suit most needs.
For a detailed look at our vans click the links located on the home page of this website. Booking is simple with our easy to navigate booking form and payment options. Remember, when it comes to your Caravan Gold Coast of Australia adventure, ByronCampers is your first choice for comfortable, affordable, easy-to-tow vans.
Have a question? We can help!
We have valuable caravan experience and know what it takes to create an easy, relaxing camping experience.